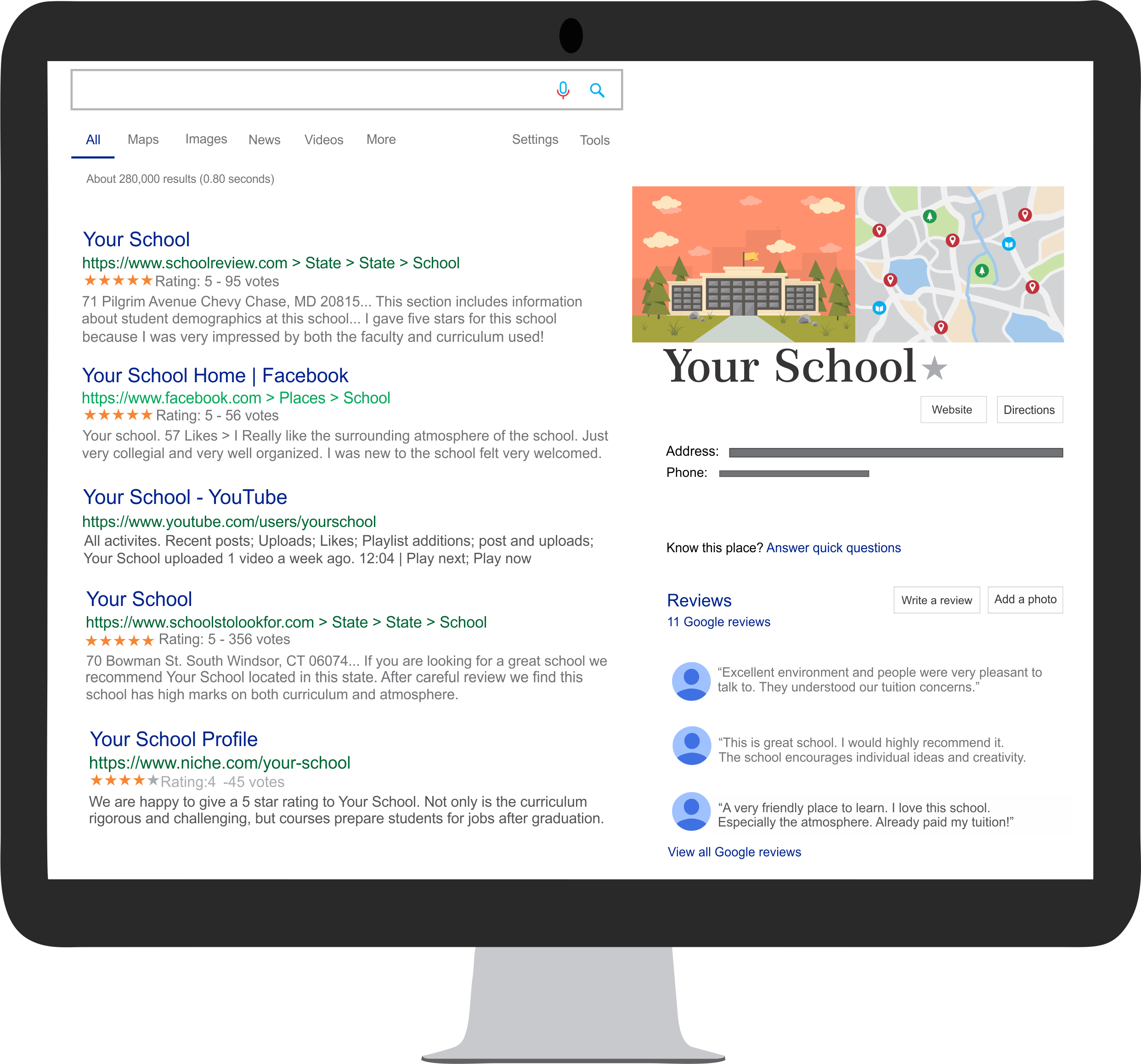 How to Develop and Manage School Reputations Online
Learn best practices for school online reputation management and local search engine optimization
Simple and predictable processes that can be executed by school communications professionals
ReputationSimple provided very fast and effective information and results.  I would highly recommend using them as part of your communications strategy.

Jeff A. Associate Head of School, Charlotte North Carolina

The team at ReputationSimple provided a layman's term approach.  Our team picked up the processes right away.  We loved the training and are actively putting our skills to work. 
Ted M.  Chief Innovation Officer Concord California

Fast paced and useful information.  I have already recommended your training program to a colleague to help them out too.
Kevin P. Communications Director Spartanburg South Carolina

Online Reputation Management Training for Schools
ReputationSimple®  | School Reputation Control™
ReputationSimple® the educational reputation management leader since 2011.  We deploy our patented systems including School Reputation Control™ and Review Shield™ to propel professional accomplishments and positive reviews to page one online results.  We offer your choice of a full concierge service or training lessons on our systems and methods for your communications team.

Did you know?
According to a recent study, schools with a positive online reputation enjoy a 5-8% higher enrollment rate year over year compared to those schools with a less than favorable page one reputation. In fact, half of consumers 18 to 45 rely on online reviews and news more than referrals from friends or family.  Whether a charter school, private school or public school, this is a must to protect and grow your online reputation.
Would-be students and their parents will conduct an online search of the name and location of your school. Even stakeholders regularly search the school online for routine information. If they find less than flattering critiques or unfavorable news stories, your school is losing enrollment opportunities.
For those schools not actively managing their online image, their future is in the hands of the nameless, faceless reviewers whose complaints aren't always justified. Even if their gripes are legitimate, the reviews and news stories-and their harmful effects—can linger long after your school has corrected the issue.
Online Reputation management training puts the power over your school's image back where it belongs – in your hands.
Online Reputation Management Training Objectives:
The purpose of this training is to guide school communication professionals on how to build a brand online by crafting properly structured content and using search engine optimization tactics. The benefit of learning this information is to improve the online brand reputation of the school by properly gaining control and alignment of online page-one results.
Page One Text Listings: Listing one through five (5) controlled* and positive content
Page One Text Listings: Listing six to 10 controlled and positive content
Local Account: Gain control, align & optimize all brand online information and messaging
Local Account Reviews: Use existing clients to improve online reviews with a goal of grade of 4-Stars or higher
Non-Controlled Listings: Suppress to page two or page three results
Content Strategy: Learn to create an online content plan to control the narrative
Create Digital Footprint: Profiles and web properties for highest page-page potential
Reporting & Automation: Using free software platforms to measure results and auto post content to save time
Online Reputation Management Training Manual:  Updates, help desk support and monthly reporting on key metrics
*Controlled is defined as a listing that your team can physically login or is a positive brand results when a user searches the name of the school.