Your Positive Reputation Online Made Simple
HOW IT WORKS
Artificial Intelligence Enhanced Systems Boost EXPERTISE - AUTHORITY- TRUST
EXPERTISE
We ensure there are proper digital credentials to showcase accomplishments. Your Reputation Advisor will collect information for fast deployment of your enhanced digital footprint.
AUTHORITY
Your Reputation Advisor will assist you with online brand development. With a team of professional writers, videographers and photographers we can produce a high authority narrative. All content is approved by you, in writing, before anything is published online.
TRUST
Using artificial intelligence enhanced systems we network social proof and authority to the search engines. Highlighting alignment of messaging and constant updates of status for fresh information.
REPUTATION REPORT CARD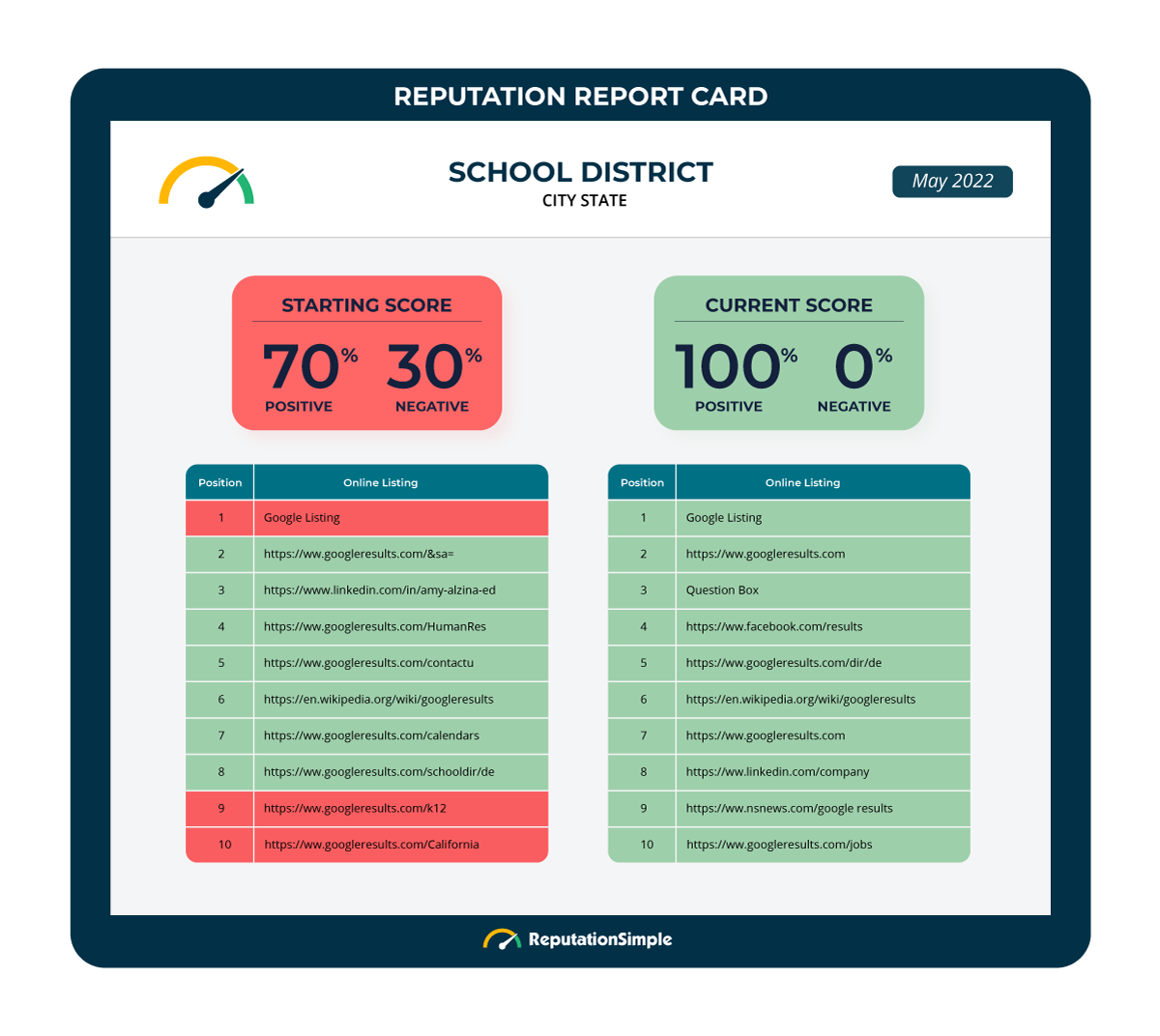 FREE Reputation Report Card
-Free Report on our proprietary, location aware platform
-See what a stakeholder's search of your District or Superintendent shows
Client Results
Results
Our communications team enjoyed the training and continues to learn from the monthly check-in done by Deborah. Our positive reviews continue to grow and we have more understanding of the other ways that stakeholders search for our school online.
Deborah Frye and ReputationSimple bring out the best in clients. Not only does she find the best attributes of a person and their history, she makes sure that it is showcased online. She makes me want to aspire to a level of excellence that will match and exceed my reputation everyday.
Since working with Reputation Simple, our online placement and reviews have grown by more than 80% in less than six months. Help from ReputationSimple has been a great help to our District and our Schools.
Instant Price
Reputation Control Workshop
Learn about reputation marketing how it works and receive instructions. Receive three [3] simple processes to use immediately to improve your online reputation
Reputation Control Full Concierge Service
Let our team do it for you! Reputation branding, PR, marketing and suppression of negative online information. We craft a professional brand and design content to convey accomplishments and control the narrative about your online reputation.
By submitting this form, I agree that my phone number and email address may receive communications regarding service notices, billing communications, promotions/deals, and other notifications from our company. These messages may be delivered via email, SMS, calls, or voicemails. You can opt-out of SMS communications at any time by replying "STOP". You can opt-out of email promotional communications at any time by clicking the unsubscribe link. Your information is only used internally to provide/offer services and never sold to any 3rd parties.
About Us
ReputationSimple® the educational reputation management leader since 2011. We deploy our patented systems including School Reputation Control™ and Review Shield™ to propel professional accomplishments and positive reviews to page one online results. We ensure you own the narrative about your District and Superintendent rather than the nameless trolls who attack your School District. We offer your choice of a full concierge service or training lessons on our systems and methods for your communications team.
Deborah Frye
Founder Queen of Awesome
Jennifer Gentile
Client Success
Maximus Frye
Chief People Officer